Modern ERP systems & support
Basic factors in a company's success are the quality of the methods, systems and routines that govern its work. This is especially true when companies are facing a transformation.
Microsoft Dynamics 365 Business Central (BC) | Business Intelligence | Cloud Solutions | NavetEdge | Security | IT Strategy and Training

Navet is a Microsoft Certified Gold Partner and develops solutions between ERP systems, external support systems, the outside world and peripherals. Gold Partner is Microsoft's highest competency level for resellers, and our having it means we need to meet specific requirements each year to keep our certification. Hereby, you can trust that Navet has the experience and competence required for successful ERP system projects.
Navet's consultants have many years of experience with Microsoft ERP systems, business intelligence (BI), cloud solutions and security.
Microsoft Dynamics 365 Business Central (BC)
Dynamics 365 Business Central is a modern business system, or ERP system as they are also called. It helps you optimise operations and connect and automate your company's business processes. Business Central is the new generation of Dynamics NAV (Navision).
With Business Central, important business processes such as purchasing & inventory management, order management, logistics, accounting and reporting can be automated.
Business Intelligence
With the right tools, all employees have access to the right information at the right time. This allows your decisions to be uniform and well-substantiated. With BI, you can often reduce your IT management and increase internal and external collaboration by connecting data and people for up-to-date and accurate decision support.
BI solutions are often flexible, growing with the company and quickly adapting to changes. Navet works with the BI systems Microsoft Power BI and Qlik.
Cloud Solutions
Through a well-developed cloud solution in Microsoft Azure, we ensure efficiency through implementation, development and operation in your business, with the best solution.
With Business Central on-cloud, the solution can be adapted using a range of applications called extensions, meaning no major changes need to be made to the system. This enables automatic upgrades of your business system, among other things, and makes modern ERP systems significantly more cost-effective than older solutions.
If you go for a local, on-premises solution, you operate your business system yourselves and must make upgrades manually.
NavetEdge
NavetEdge is our own application and integration engine that connects systems otherwise incompatible with each other so your organisation can improve your transparency, efficiency and free up time.
Security
Cyber attacks on businesses are becoming more common and more advanced. Through Microsoft's range of solutions, we can offer robust and cost-effective security solutions.
IT Strategy and Training
We offer project management, support and training. We also offer consulting services to help you design an IT strategy that is competitive from server set-up and system selection to integration management.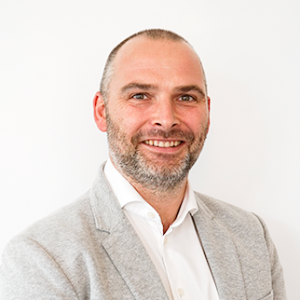 Contact
Anders Claesson
Partner, Head of ERP systems
anders.claesson@navet.se
+46 (0)70-533 50 22